GET TO KNOW
KRYSTLE DESANTOS
DECOR | STYLE | VINTAGE | DIY
Hi I'm Krystle, Creative Director and Digital Content Creator from New York City! Vintage shopping, traveling, dancing, and eating ice cream are a few of my favorite things. I'm originally from Guyana and moved to NYC over 10 years ago. With over 9 years of blogging, as well as digital advertising and marketing experience in the tech space, I create colorful content with the mission of empowering women to express their unique selves through the way they look and live.
On my blog I write about vintage meets modern style, interior and event decor, culture, travel, women's empowerment, and my numerous DIY projects.
My love for fashion and decor originates from two very important women in my life—my mother and grandmother. I'm currently preparing to launch my new accessory shop called Lillian & Joan as a tribute to their influence in my life so be on the lookout for more details!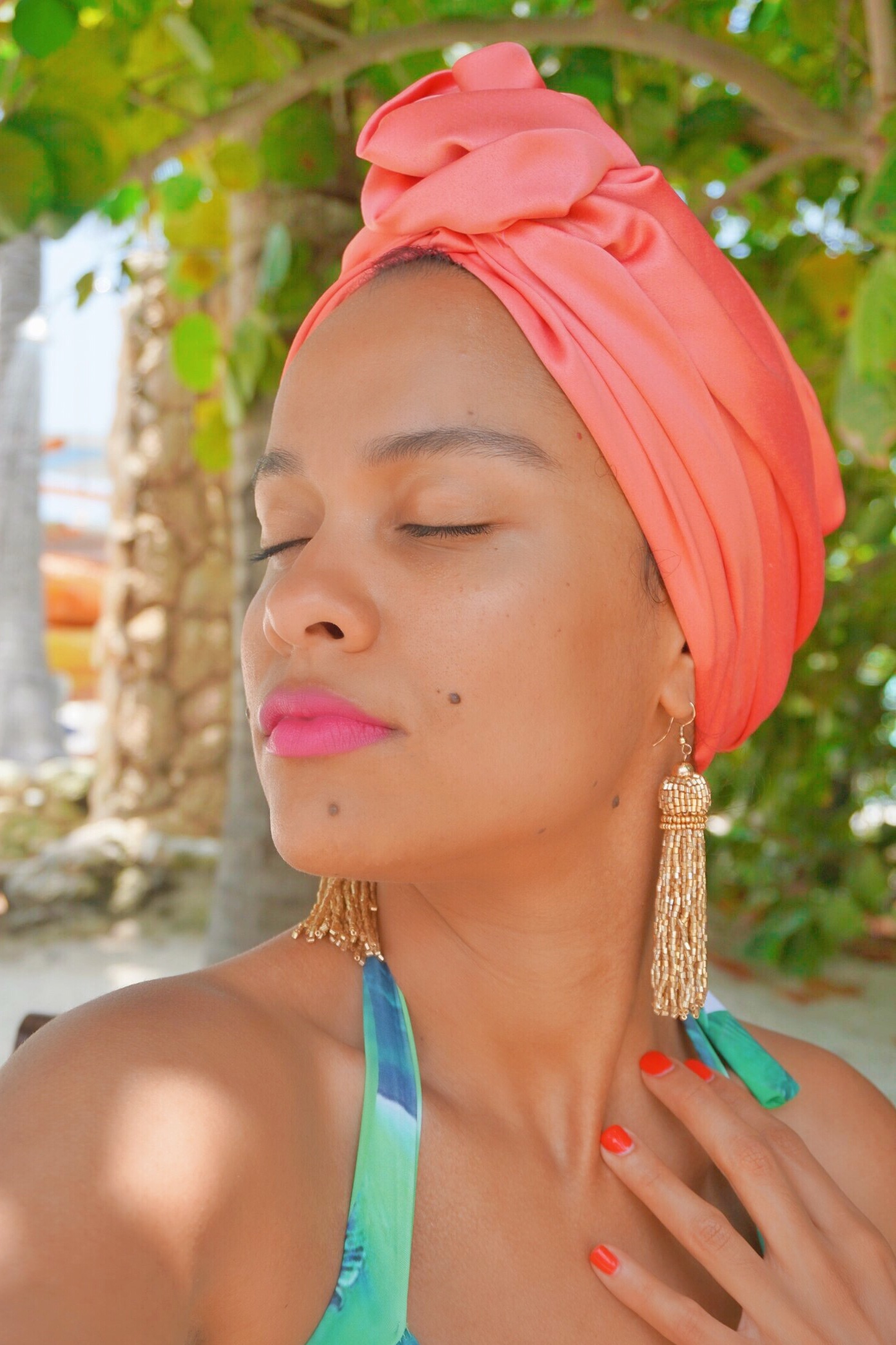 What's a piece in your closet you wear to make more of a statement?
"I wear many statement pieces from my clothing to lipstick to jewelry to purses but I think turbans, half turbans, and head-wraps pack a punch. They offer what I refer to as my signature retro-glam style and here's my little secret—they're perfect for lazy hair days. I'll be offering a unique selection of handmade turbans in my new accessory shop so be on the lookout for those."
10 FAVES
Drink: Passion fruit juice, Thai tea and tropical cocktails with umbrellas and flamingo straws
Dessert: Ice Cream (Ginger, Dark Chocolate, Earl Gray, Vanilla Bean & Mud Pie)
Food: Mom's curry chicken, dhal, steamed okra, rice, jerk chicken and Thai
Makeup: Blush/Bronzer, Mascarra & Lipstick
Lipstick color: Classic Red, Exotic Pink and Tangerine
Music: Reggae, Dacehall,Calypso, Soca & Beyoncé (she's a music genre, no?). I love all types of music actually!
Home Decor items: Vintage furniture and glassware, culturally-influenced art & textiles and objects made of brass
Clothing: Vintage, vintage, vintage & custom handmade!
Accessories: Tassel earrings and statement everything! I'm an accessory lover and down-low jewelry hoarder.
Color: Gold & flamingo pink.
Bonus: